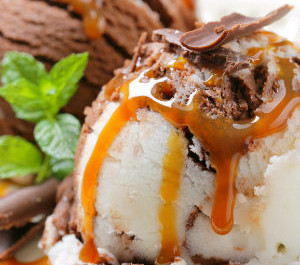 Fun And Exciting Ice Cream Flavors For Summer
Nothing foretells the coming of summer like the reopening of local ice cream businesses across the country. Once the temperatures start rising the waffle cones and scoops are broken out in anticipation of sweltering nights and long lines wrapping around the blocks. Ice cream brands work tirelessly to attract customers during the warm season and creative creations are often stocked next to traditional favorites. 2014 is the year of the locavore gormand, leaving customers to wonder what interesting concoctions will appear this year, here are some of the hottest and most interesting flavors you can expect to see this year.
Eating Has Never Been This Yummy
Capitalizing on the interest of eating local, ice cream flavors that incorporate local herbs are appearing in some areas. Basil seems to be the most popular choice, but lavender, dill, and oregano all may find their way into local creations. Many describe the combination of herbs and dairy as a delicate, gentle flavor that is both refreshing and different. Click here for more on herb infused ice creams.
Popular snacks are now finding the way into the frozen treat market. Cheddar goldfish and buttered popcorn flavored ice creams have both appeared in dairy boutiques this year, appealing both to the young and the brave. These ice creams are capitalizing on creating feelings of nostalgia for popular flavors from childhood, and so far, they seem to be on to something as these flavors are being swept up as quickly as they are stocked.
Exotic fruits are being incorporated into ice creams more frequently. Pomegranate and Acai berries are both frequent flavors, even in chain creameries. These flavors are following on the coat-tails of previous favorites like mango and papaya, which were once considered exotic. Chili peppers are becoming a popular feature that gourmands seek out for the intrigue and exotic appeal. Decadent flavors like caramel pudding and cinnamon shortbread may not be as unusual as the other mixtures described, but tastes based on old-fashioned home baking are favorites, especially in the younger generation, who may have few memories of home-baked treats.
Whichever flavor is your inclination, the impending heat waves are sure to drive you to a local ice cream hotspot for relief.