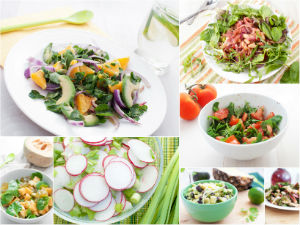 Top 5 summer salads
Having the right salad during the summer that can provide a cool, light, refreshing change while integrating the flavors and variety of the season is great. Here are 5 of the top summer salads guaranteed to tingle your taste buds and satisfy any palate:
Top 5 Taste Bud Teasers
1. Grilled peach, Onion and Bacon
This Southern salad is a winner in a number of ways. The tangy and sweet combined, topped off with the flavor of smoked bacon makes it a welcome change to the ordinary.
2. Pan Roasted Salmon and Bread
Ciabatta or French bread tossed with lemon, tomatoes, capers and salmon baked until the salmon is cooked through. It's a dinner, lunch or anytime dish that is filling and full of color.
3. Crunchy Cabbage
Summer brings in bright colors and you can't go wrong with this one. Gather together all different varieties of shredded cabbage and pick your choice of dressing. It's colorful, healthy and quick! Perfect for those summer days when it's hot and you need a pick-me-up.
4. Crab, Apple and Watercress with Walnut Dressing
Seafood is definitely a summer-time delicacy. Lump crab mixed with apple on watercress is a light and refreshing way to take a break from the norm. Not too heavy but filling, this makes a great summer salad choice.
5. Green Mango
Mangoes are always a hit during the summer months. What better way to enjoy them? An almost ripe mango with onions and jalapenos make it a spicy and tasty dish. Don't like spice, use a vinegar dressing and eat up!